TNEPDS
2.8
Ration Card App
TNEPDS is a mobile app that has been launched by the Government of Tamil Nadu which offers you the chance to monitor your ration card entitlements and transactions. This is basically a ration card app that is meant to give the people of Tamil Nadu the chance to have a look at what the Public Distribution System of Tamil Nadu is offering them in the name of rations. I found the app to be a little underwhelming. It wasn't so friendly to use and had very limited options to offer.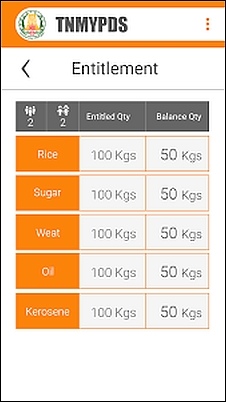 The layout of this ration card app is simple and intuitive, to begin with. It offers up the option of either viewing the app in the English language or the Tamil language. You can decide which language you want to see the app in by selecting the particular language from the language settings provided on the front window of the app. Having selected the language, you are asked to start the app by registering yourself. You can accomplish this by submitting your mobile number into the app. An OTP will be sent to your given mobile number, which you can enter to gain access to your ration card information.
TNEPDS gives you the information regarding the ration entitlements that you have. It is a breakdown of all the commodities and their quantities that you are entitled to have depending on the number of people you have in your family. For instance, for a two person family, the amount of rice you could have is 100 Kgs. Similarly, the quantities of Sugar, Wheat, Oil and Kerosene are also the same. The new version of the ration card app also allows users to update information regarding the number of people that are present in a family household. This will ensure that the entitled amount of goods will get increased accordingly if a new addition has been made to your family.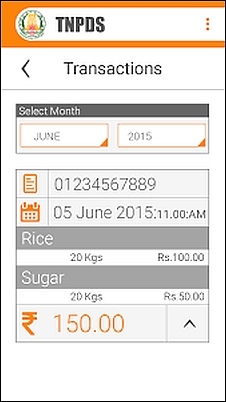 This ration card app also provides you the chance to view the transactions made each month for the purchase of the different ration commodities. The app has a minimalist design and only lists the most pertinent details of the transactions made. You get to see the price details of each commodity separately and a final total. While being adequate, it is not something special and does not give other features that are included in such apps of other states. Moreover, the performance of the app is somewhat lacking as well. I found it extremely hard to enter in my mobile number and several tries had to be made to get the OTP to get myself registered.
Features:
Multiple language support
Simple and minimalist layout and design
Details of ration entitlements
Details of ration card transactions
Conclusion:
TNEPDS is a ration card app that barely performs its basic function but does not go beyond itself to offer help to its users. It is not an app that you can't live without and so does not merit a place on your Smartphone.
---
Add a review
Tell us your experience with
TNEPDS
2.8
RELATED PROGRAMS
Our Recommendations
---
---
---
---